(Share this guide on the links above if you found it useful)
How To Paint a Garage Floor
Garage floors can come in many shapes, sizes, substrate types and conditions. As a result, painting them can at first seem like a daunting task. At Resincoat we are proudly the biggest UK supplier of 100% epoxy floor paints on the market and with that we have over 25 years of experience working with garage floor paints. Our in-house team of specialist paint chemists have devised and tested a resin formula that not only looks amazing but is highly durable and easy to work with no matter your level of experience. In this guide we will take you through every step of painting your garage floor from deciding which floor paint to buy, right through to maintaining and looking after the finished product.
There are many reasons to paint your garage floor. Whether its to protect it from mold, eliminate dust problems from your old concrete floor, protect the floor from vehicle fluids or even just have a clean, glossy finish that you can show off to the neighbours with, the best way to go is two-part epoxy floor paints.
What is epoxy floor paint?
Unlike traditional alkyd oil or latex paint options, epoxy floor paints are made using aliphatic resins. The main advantage of this is that resin-based paints do not require harmful solvents to form their adhesive properties and settle evenly on your floor. In fact, epoxy is the lowest VOC (Volatile Organic Compounds) of all types of floor paint. The product works using a part A and part B that are mixed together. Part A is your epoxy resin and part B is an activator or hardener. Unlike other paints, epoxy chemically cures rather than drying and as a result the finish is much harder, stronger and less likely to chip or flake. This also means that multiple coats can be applied much quicker. By adding Part B to Part A, a chemical reaction takes place which begins to harden and thicken the mixture into the finished product. As a result, epoxy paint must be applied as soon as it is mixed – this window is known as the working life. The working life of Resincoat products is around 40 minutes at an ambient temperature, this gives you plenty of time to roll out your paint to its full coverage potential. Please note working life is not the same as pot life.

Why should I choose epoxy floor paint over oil, latex or polyurethane based paints?
1. Resincoat epoxy floor paints are 100% solvent free. Oil, latex and even cheaply made epoxy products always contain some form of harmful solvent.
2. Epoxy floor paints are much more durable and less prone to flaking or chipping when applied correctly.
3. Epoxy floor paints are inherently oil tolerant and resistant to most spills, including vehicle fluids.
4. Resincoat epoxy has self-smoothing properties ensuring a perfect finish every time.

5. Epoxy paints have a shorter time between coats meaning you can minimise downtime and save labour hours.

Advantages of Resincoat High Build over cheaper alternatives:
1. 100% epoxy resin formula, manufactured and tested in the UK by experienced experts.

2. Superb coverage rates - up to 20m² from a single 5kg tin

3. Widely used in garages, factories, storage units and more across all ends of the UK.

4. Your surface will be ready for traffic in just 24 hours.

5. Durable formula with a 3-year guarantee

How to prepare different types of subfloor in your garage
No two garage floors are the same and in fact, though the strong majority are made from concrete, in our many years of experience we have come across nearly every surface known to man including metals, woods, fibreglass, asphalts, power floated and even cork floors. Each different substrate has its own properties and as a result needs to be prepared accordingly. Epoxy floor paints will go over most hard, smooth surfaces but in most cases, it is important to use a primer to seal, protect and prepare your subfloor. Something to consider here is the age and condition of the floor – newer concrete floors are often the ideal subfloor as they are free of laitance and other potential contaminants and they are typically non-porous throughout meaning none of the epoxy can escape in small cracks or holes. Larger cracks and holes should be repaired or filled prior to use of primers of epoxy floor paints.
For older floors, particularly those that are tamped or brush finished concrete it is important to level and smooth the floor before applying garage floor paints. There are a number of ways to do this but the best is the grind the floor using a diamond tipped floor grinder. As not many of us have one of these lying around, the best thing to do is to hire them from a local hire shop – rates can be as low as £100 a day depending on the shop. Resincoat have a list of approved tool hire shops which you can view here

Often forgotten but highly important! Vacuum the floor fully after preparation to remove any unwanted laitance.
How to choose the correct primer
Choosing the correct primer can have a huge impact on your finished floor and therefore it is a decision you should not take lightly. Many companies provide only one catch-all primer for concrete floors which is just not enough. At Resincoat we understand different subfloors have different requirements and every job is different to the last. We produce over 8 different types of primer to tailor your paint project to your exact subfloor. Here are each of the different primers and the appropriate floor type to use them on:
Standard epoxy primer will absorb and seal sound concrete surfaces to maximise the potential of the subfloor and cure stronger than the concrete itself. This seals the floor and gives you a perfect base for further coats of epoxy paints top coats.
Damp tolerant epoxy primer is again suitable for newer concrete surfaces but more suitable for those prone to a high moisture content – typically ideal for basements or detached garages as well as brand new concrete floors and cement based compounds. It is important to note this is not a solution to rising damp and should be applied to a dry floor where possible.
Tack coat is a little different to other primers in that it is best use for sealing and protecting concrete holes from loose debris and unwanted laitance before filling with crack repair or epoxy mortar.
Oil tolerant primer provides an effective membrane against oil contamination in concrete subfloors. This is most often used in car garages, MOT centres and other locations that are prone to non-acidic chemical spills. It will not only help protect the paint and keep it clean but also does a great job dust-proofing and damp prevention.
Fairly obviously, this primer is ideal for use on subfloors made from solid woods including plywood and metal floors. This primer acts as a perfect intermediary between floor and paint to ensure maximum levels of adhesion and smoothness on the top coat.
For older concrete or weaker floors types, deep penetrating epoxy primer is the solution. This primer will bind weakened materials together and seal any inconsistencies making a non-porous barrier for the subsequent top coat to sit atop of.
For poorly compacted or low strength screeds you will need a heavier duty primer. The PRS system is perfect for this is as it will run deep into the substrate, consolidate loose particles and toughen up your surface in preparation for epoxy coatings.
Antibacterial primer is a little more niche, but ideal for use in hospitals, animal centres and food preparation areas where hygiene control is of utmost importance. The antimicrobial properties make it 99.9% effective against MRSA and other bacteria, giving you full biological control.
Applying Your Primer
Once your floor has been fully cleaned and prepared and you have chosen the appropriate primer, it is time to apply it. We have a useful video on this which you can watch here:
Epoxy primers are very easy to use. The process should look like this:
Ensure your equipment, tools and materials and area of application are ready before you start

ALWAYS refer to the MSDS and use protective clothing such as gloves and protective goggles where advised.

Use a mixing paddle attached to a drill to pre-mix part A for a minimum of 60 seconds before adding part B.

Pour Part B into Part A

Mix for a minimum of 90 seconds to ensure the primer is thoroughly mixed.

Once mixed, start cutting in the edges of your floor where it meets the walls or other vertical surfaces. It is often a good idea to use a separate, smaller tin of primer for this due to the working time of the product.

Mark out the area expected to be achieved with the size of tin you are using.

Use a roller to spread the rest of the mixture evenly and thinly into your marked area, covering it completely.
Ensure the product is used immediately and within its recommended working time to avoid the coating overheating and curing.
Mixing and applying your epoxy garage floor paint
Once your floor has been appropriately primed and you have waited for the primer to fully cure – it is time to mix your floor paint. For this you can use the same instructions as the mixing and applying the epoxy primer as above. For many epoxy paint systems, you will require two coats of paint. The first is known as the base layer which is often for decorative and colour purposes but also useful for providing the full level finish to the floor for that glossy, smooth effect. The second coat, also known as the top coat, is the final layer to the garage floor paint process and this is where you would include additional anti-slip additives, flake systems or any other non-standard effect or finish to your floor. It is important to allow time for the paint to fully cure before adding the next coat so we typically advise a minimum of 12 hours between coats.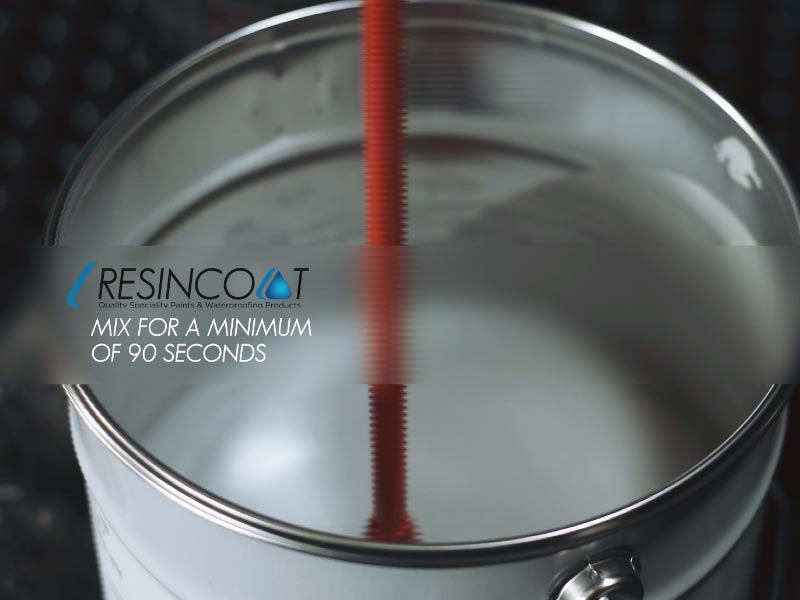 Mixing thoroughly is important to ensure a full chemical reaction takes place - always ensure parts are fully mixed.
How to clean epoxy garage floor paint & maintenance tips
Even with high build quality and high durability, heavily used floors will eventually become dirty. This is more likely the case in working areas such as workshops, repair garages and food preparation areas. One of the best benefits to an epoxy floor coating system is that it is nice and easy to clean without causing damage to the paint. Many weaker paints will crack or flake when exposed to cleaning solutions and this makes them unsuitable for many busy areas. The best way to clean a garage floor is with a low foaming, neutral pH cleaning fluid such as Resiclean 5000. This is great for grease or tyre marks as well as many other types of stain and will ensure you keep that glossy, professional finish that you started with. This can be used with floor scrubbing machines but is also great for manual cleaning. Keeping the floor clean and dust free will ensure the longest possible life for the paint so it is advisable to regularly clean and vacuum the floor. Don't forget you can always add another coat of paint at a later date but this should not be used as a substitute to proper cleaning and maintenance of your garage floor.
Resincoat tricks of the trade
Thanks to over 25 years of working with epoxy products, manufacturing them and applying them we have had our fair share of experience. Here are a few tricks of the trade that you won't find anywhere else:
Always use a roller that is suitable for use with epoxy resin.

Failing to prepare is preparing to fail. Actually painting of the floor is very small proportion of the time spent on the project. Quality preperation leads to quality results.

Always roll in one, consistent direction. Especially for the last pass. This allows the paint to level quickly and evenly.

Mark out the area you expect to cover with each tin. This allows for a consistent, evenly spread coat.

High quality epoxy should be solvent free and 100% resin, cheaper alternatives may use thinners to get better coverage but this will ultimately lead to a lower quality finish.

Our expertise, your garage floor
Something that sets Resincoat apart from any other floor paint company out there is our expertise. We offer totally free advice from before your purchase, during application or after your floor is finished. Our team are available Monday to Friday, 8:30am to 5pm and will be happy to answer any questions you may have. You can reach us on our live chat feature at the bottom of your screen or give us a call on 0113 827 2387.
Further to that we have a full series of videos on how to paint your garage floor available on our YouTube channel which you can find here.