We offer an extensive selection of decorative aggregates for you to choose from allowing you to tailor your driveway to your own unique design. The UV stable resin is tolerant to different outdoor conditions and will ensure your aggregates will not discolour when exposed to sunlight. All our Resin products are proudly manufactured by Resincoat in the UK to the highest standard.
Kit Contains:

1 x 1kg UV Stable Resin
1 x 0.63kg Activator
1 x 25kg Bag of dried decorative aggregates
Coverage Guide:
Each kit is capable of covering 1.25m² at 12mm thickness making this DIY kit ideal for smaller areas. Coverage rates are below:
12mm – 1.25m2 per kit (ideal for walking)
15mm – 1m2 per kit (ideal for a driveway)
18mm – 0.75m2 per kit (ideal for heavy vehicle use)
*Please note our calculator is based on a 15mm thickness ideal for a driveway.
Installation:
Our Resin Bound kits can be laid over existing concrete or tarmac which means a much faster installation with little disruption. The kits are easy to install and can be walked on within 6 – 12 hours. Please see detailed application instructions below.
For more information click here for Resin Bound FAQ's >
Order Sample Aggregates:
If you're unsure of what decorative aggregate to go for why not order a sample box. Our sample box contains 15 colour options fully cured for you to preview what your finished driveway will look like.
Click Here To Order Sample Aggregates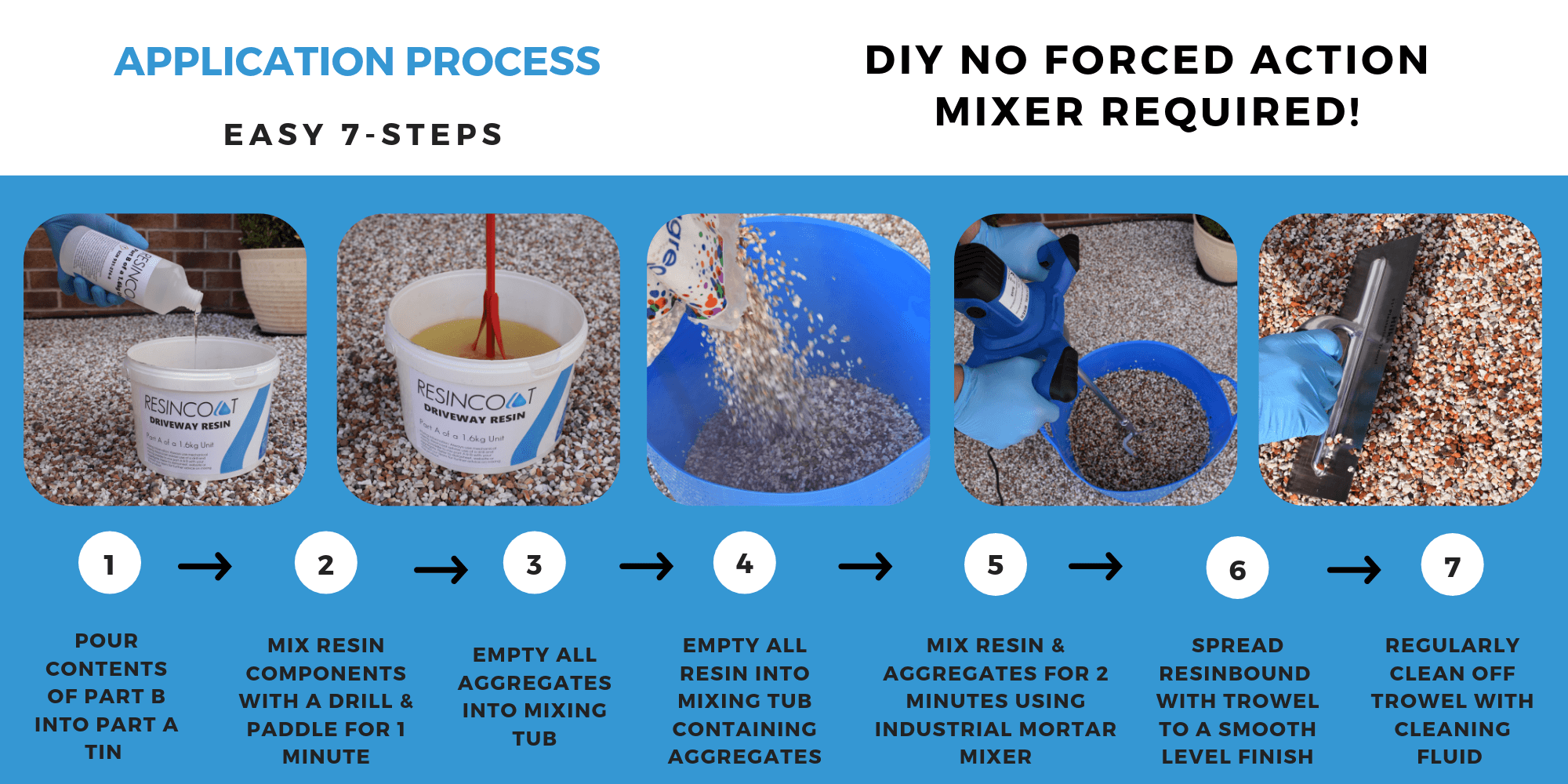 Tools Required:
In order to apply our DIY Resin Bound kits the following tools are required:
• An Electric Mortar Drill & Paddle – recommended for aggregate mixing
*Please note Resincoat offer these mixers on a buy-back scheme, typical mixer cost £20per week. Please call 0113 350 6366 for more information
• A drill and paddle – recommended for mixing part A & B resin
• A Flooring Trowel – basic knowledge of how to trowel down aggregate mix is beneficial