Delivery
Please note we are facing huge demand & our delivery services are taking longer than usual therefore please expect some delays. Our team are working exceptionally hard to get all orders out to customers. We expect all orders to be dispatched within 5 - 7 working days. Thank you for understanding.
We're doing everything we can to get your order to you as quickly as possible, but we also want to protect the physical and mental well-being of our team, kindly bear with us! If you have any questions or urgent enquiries, we are available on the phone or via live chat from 8:30am to 5pm.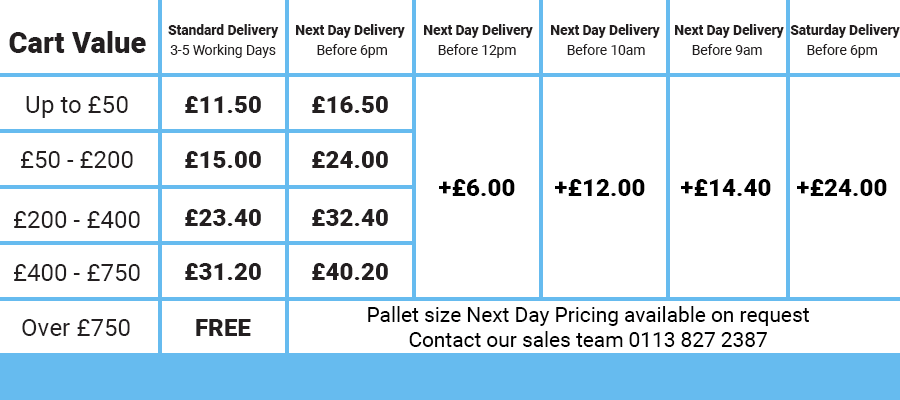 Delivery costs are based on order value as below:
Orders may be picked up from our Factory free of charge.
For deliveries to Scotland, Northern Ireland, Republic of Ireland, Wales and Europe please contact us for a quote.
All deliveries outside of the UK Mainland postcodes listed below may incur an additional shipping charge which is calculated manually.
For a non-UK mainland delivery quote or for any other special delivery requirements please contact us on +44 (0) 113 827 2387
Please Note:
The cut off to time for Next Working Day Delivery is 12 noon. Orders placed after this will be dispatched the following working day.
Orders after 12pm Thursday will be dispatched Friday for delivery on Monday unless a Saturday service is selected.
Next day delivery orders placed Friday-Sunday will be despatched the following working day i.e Monday. For urgent weekend deliveries we recommend use of our Saturday delivery option.
Where split shipment of goods is required we will inform you by email. If you require split shippment for your own requirements please call our office.
All delivery times quoted on the Resincoat Ltd website are estimates based on normal processing and the availability of the Courier Company.