What exactly is laitance?
Laitance is formed from the mixture of water, cement and the fine particles of the concrete mix that are brought to the surface when placing and trowelling up. As the concrete cures, this mixture can dry to form a thin layer on the surface which is known as laitance.

Laitance is always present on new concrete therefore preparation is required to ensure good adhesion with any subsequent coating. Laitance can differ in thickness from barely measurable to extreme cases of 5mm+.
How to test for laitance?
The easiest way to test for laitance is to scrape the surface of your floor with a knife, if a powdery substance can be scraped from the floor laitance is present.

If you wish to determine the depth of laitance use a screwdriver or similar to score the surface until the main aggregate is reached. If you require an accurate measurement you can use scratch testing equipment.
Why is it critical to remove laitance?
Laitance doesn't have a good adhesion to the aggregate mix underneath and is comparatively weak in strength. This means under heavy foot & vehicle traffic it can delaminate and wear away potentially impacting any subsequent coating.

Any coating must be bonded to the mass of the aggregate and not the laitance; the heavier the use of the floor the more critical this is. If you fail to remove laitance this could ultimately lead to the failure of your coating.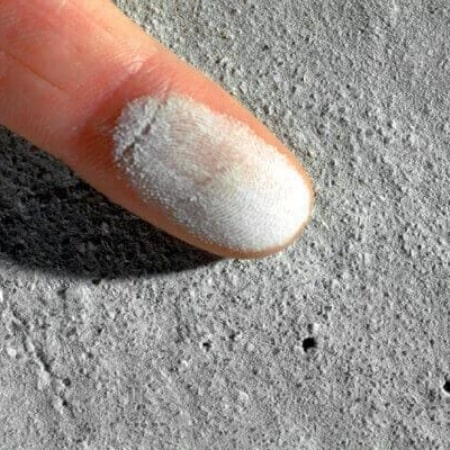 Best way to remove laitance?
The most common methods of laitance removal include:
• Abrading
• Grinding
• Acid Etching
Abrading
Ideal for DIYers with a small area size abrading can be done with abrasive paper such as sand paper. Correct surface preparation is essential before coating and can help ensure good adhesion. The sanding creates a key for the coating to adhere to when applied.
If you have a larger area a hand sander would allow you to get the job done quickly and effectively. These items often generate a lot of dust therefore it is vital you protect your eyes and nose when operating. Once complete we advise you vacuum the area to completely remove any dust or dirt prior to coating.
Grinding
Grinding is usually carried out by a mechanic grinder. This is ideal for large areas allowing you to prepare the surface quickly. Mechanical grinding is an effective method for removing laitance and exposing the aggregate below creating a key for subsequent coatings to adhere to.

Mechanical grinders can generally be hired locally to your flooring project. These hand held machines are safe to use & offer precision & control. Dust must be thoroughly cleaned up afterwards by vacuuming to ensure it does not adversely affect adhesion of your coating. If dust is a problem there are mechanical grinders that can be hired with vacuum attachments.
Acid Etching
Acid etching can be effective for floors where the laitance is thin. It is recommended if grinding or sanding is not feasible as in cases of thick laitance it may not be 100% effective. However if carried out correctly acid etching can be a quick and effective solution.
 
Acid etching provides the following benefits
• Removes laitance
• Provides a textured surface; often referred to as a key, to help subsequent coatings adhere
• Helps clean the substrate
 
Acid etching works by breaking down the top layer of cement and removing it. For instructions on how to use our acid etching view our technical data sheet here.
Create a smooth high quality finish by removing laitance
Laitance removal may seem like a lengthy task however the preparation work is definitely worth it for the overall finish. By removing laitance and correctly preparing your surface for coating with epoxy you will achieve a smooth, high quality showroom finish. Check out one of our customer case studies below:
Contact us for expert help
We have an expert technical team who can assist you with any questions you might have from the outset right through to choosing suitable products and aftercare.  Our team can provide advice on suitable laitance removal methods that would work for your flooring projects. Call us on 033 00 570 695 or alternatively email our team sales@resincoat.co.uk.