We recently assisted with a substantial flooring project for an automotive client which involved working closely with the client and an external flooring contractor to install our 2 part anti slip epoxy factory floor paint coating. We have years of experience working with these clients;  we always inspect the floor carefully looking out for signs of oil contaminants and other chemical spills which are typical of these environments. We are then able to recommend correct cleaning and preparation steps ensuring the highest quality finish that is also incredibly durable. Our technical team are able to assist with entire projects from initial specification and application guidance right through to completion.
What Was The Brief?
The client; Ron Skinner & Sons are the number one car supermarket in Wales. They recently acquired a second factory from Iron Brew which would then be converted in to a car preparation area. With that in mind the floor coating would be subject to lots of heavy vehicle traffic and therefore had to be highly durable. They also required a coating that was going to be non-slip specifically when exposed to wet conditions and any spills. The coating must be able to withstand oil, petrol and many other chemicals as well as being aesthetically pleasing.
Brief Overview:
Area Size – 3400m2
Durability Required – High Durable
Product – 2 Part Non Slip Epoxy Resin Factory Floor Paint
How Did We Help?
After initially discussing the brief with the client Mark, from our technical team visited the site. Due to the substantial size of the factory a careful inspection was carried out to identify the current condition of the floor. The floor consisted of many layers of epoxy coatings therefore a heavy diamond grind was recommended in order to completely remove these layers. This would help smooth the surface as well as creating a key for the epoxy to adhere to. The client agreed they would require an external contractor who were able to work alongside Mark to carry out the recommended preparation work as well as installation.
The external contractors had a wealth of experience preparing the floor. As instructed by Mark the floor was Diamond ground to clean, dry concrete ensuring a smooth area. The installation was then carried out using 2 coats of Resincoat Anti Slip Factory Floor paint. The project was on a tight schedule with the client wanting the entire area to be completed within a 7 day window during December. Mark played a pivotal project management role due to the extensive size of the area ensuring work was carried out in a timely manner whilst also assisting the external contractors on site with any questions on mixing and application.
What Was The Finished Result?
The project was completed to a high standard, on time with the client being exceptionally happy with the results. See comments below from Craig Walters General Manager of Ron Skinner & Sons:
"The whole team at Resincoat are great to deal with, with their support we have made a multi surface older floor look like new. Products offer terrific value for money and durability."

Check out some finished photos of the project below.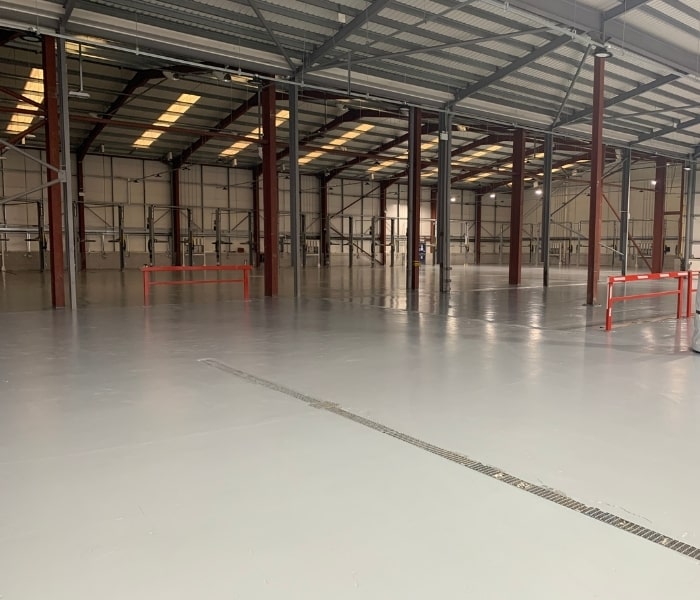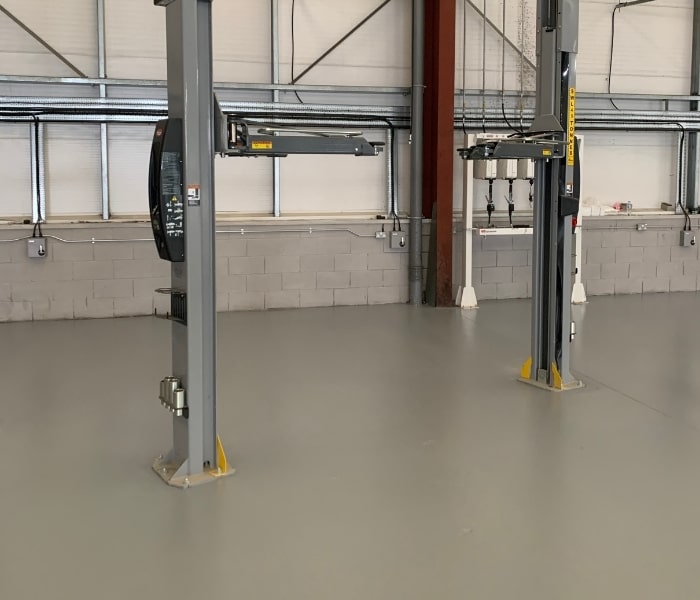 How We Can Help Automotive Clients:
At Resincoat we proudly manufacture all our epoxy & polyurethane coatings in the UK to the highest standard. We have combined experience of 35 years + working with clients in the automotive industry providing them with our epoxy resin based coatings and primers. We also offer a range of complementary products such as epoxy concrete repair so if any repairs are identified these can be fixed prior to installing your epoxy floor coating. An epoxy based resin floor is ideal for car repair, garages and other similar environments as it is resistant to oil, petrol, transmission fluid, cleansers and other chemicals that are often found in these settings. See some of the way we can assist you with a potential flooring projects below:
Virtual Site Visits – Our team can schedule a virtual visit via facetime or whatsapp video to assess the current condition of your floor & any areas of concern. This allows us to advise correct products as well as any preparation work.
On Site Visits – If a virtual site visit isn't possible or you require further assistance a member of our technical team can visit the site. This allows us to write a specification and advise on any preparation as well as necessary repairs work and/or primers.
Product Advice & Recommendations - We can assist with product recommendations based on your requirements and your budget.
Installation Support – Our team can offer installation support throughout the project advising your direct or any contractors you may be working with.
On Site Training – We can deliver on site training for any of our products.
Equipment & Tool Hire - We have a trusted tool hire partner who operate throughout the UK. With Resincoat customers benefitting from a 20% off all equipment hire.
Contact our team today to discuss a project on 0113 350 3865 alternatively email sales@resincoat.co.uk to book a virtual or on site visit.