We recently assisted with a large industrial installation of our 2 part epoxy high build factory floor coating. Working closely with both the client and the approved contractor Bilton Solutions we successfully installed 600m2 of Resincoat HB epoxy floor coating. Industrial flooring is one of the key products we supply to customers, naturally because these projects tend to be large areas they require full project management throughout. This is where our technical team can assist; we offer support right from the outset with services such as virtual & on site visits aswell as sourcing contractors & machinery right through to preparation and application guidance. 
What Was The Brief?
The client; Box Technology had appointed Bilton Solutions as the approved contractor to carry out the installation work. Box Technology required a brand new coating for their electronic equipment, manufacturing and distribution facility. The coating required had to withstand against heavy equipment & machinery as well as being aesthetically pleasing & easy to clean and maintain. 
Brief Overview:
Area Size – 600m2
Durability Required – Heavy duty/high durability
Product – 2 Part High Build Epoxy Resin
How Did We Help?
After initially discussing the brief with Bilton Solutions Mark, from our technical team headed up the project by firstly carrying out a virtual site inspection. This initial inspection allowed us to get a feel for the project and a better understanding for the clients' requirements. An on-site inspection was then carried out allowing us to build a specification and advise on preparation work. Diamond grinding was advised to remove the old, failing coating as well as helping to create a key for the epoxy to adhere to. On the physical inspection Mark identified oil contamination therefore an oil tolerant primer was recommended followed by 2 coats of our HB epoxy factory floor coating.
We worked very closely with the contractors throughout the process by helping them source discounted equipment from our recommended tool hire company & advising them on correct preparation techniques in order to achieve a high quality finish. With the floor intended for heavy duty use correct preparation is pivotal to the success and durability of the coating. We also offered hands on advice throughout the application process offering hints & tips to ensure a seamless application.
What Was The Finished Result?
The project was completed successfully within the desired time schedule. See some comments below from Dan Oakley, Bilton Solutions
"You can tell using Resincoat products that it is good quality stuff. We are dilapidating units all year round and have only ever used heavy duty floor paint.. which I won't be using again. Was an easy experience working with you guys, also the recommended hire equipment company. Many thanks Mark. "

Check out some finished photos of the project below.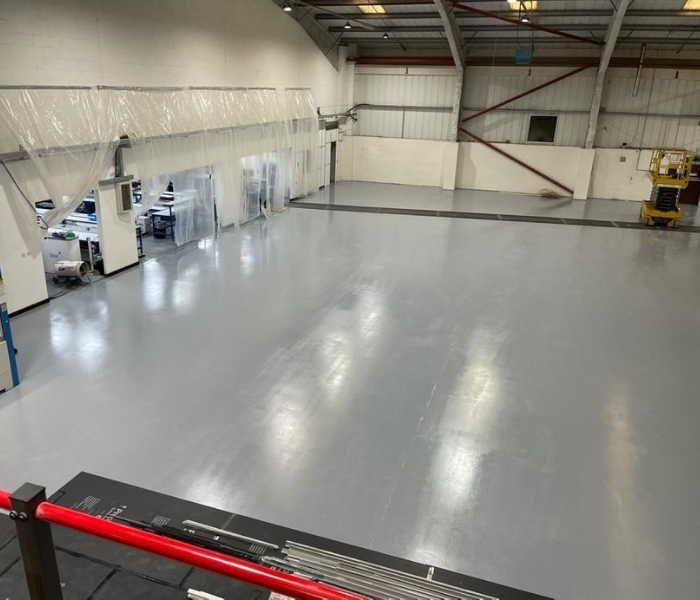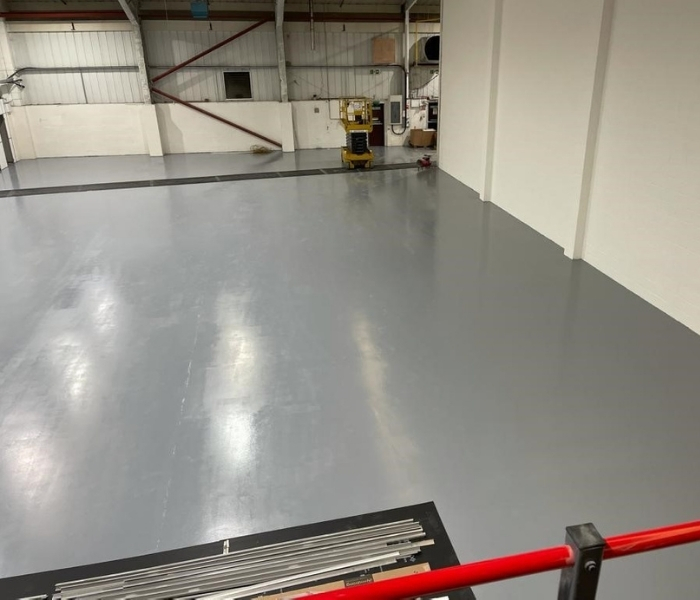 How We Can Help With Large Flooring Projects:
At Resincoat we proudly manufacture all our epoxy & polyurethane coatings in the UK to the highest standard. If you have an industrial flooring project we can supply you with high quality coatings as well as hands on assistance and project management throughout.
Our technical team have years of experience and will ensure correct products are selected for your intended usage whilst also providing support throughout the entire project. We can work direct with yourself or closely with approved contractors to support equipment training & application. We have a range of epoxy floor coatings & primers along with epoxy repair products, ensuring your industrial floor is completed to a high specification. See all the ways we can support you below:
Virtual Site Visits – Our team can schedule a virtual visit via facetime or whatsapp video to assess the current condition of your floor & any areas of concern. This allows us to advise correct products as well as any preparation work.
On Site Visits – If a virtual site visit isn't possible or you require further assistance a member of our technical team can visit the site. This allows us to write a specification and advise on any preparation as well as necessary repairs work and/or primers.
Product Advice & Recommendations - We can assist with product recommendations based on your requirements and your budget.
Installation Support – Our team can offer installation support throughout the project advising your direct or any contractors you may be working with.
On Site Training – We can deliver on site training for any of our products.
Equipment & Tool Hire - We have a trusted tool hire partner who operate throughout the UK. With Resincoat customers benefitting from a 20% off all equipment hire.
Contact our team today to discuss a project on 0113 350 3865 alternatively email sales@resincoat.co.uk to book a virtual or on site visit.