New Covid-19 Resistant Coating Developed by Resincoat
Here at Resincoat we have developed a new coating that has been independently tested and proven to be effective against Coronavirus. This is a significant breakthrough in the fight against COVID-19 within the coatings industry.
Our new Covid-19 Resistant Coating has the added benefit of being both Anti-bacterial and Anti-microbial, meaning it not only kills over 99.9% of bacteria including E.coli, Salmonella and MRSA, but it is also effective against other microbes like viruses.
How Does The Coating Work?
With this new coating, you'll enjoy the peace of mind that its Anti-microbial effects will last for the life time of the coating, which can be several years. Following it's application, our Covid-19 Resistant coating will work continuously in the background without any further intervention, unlike labour intensive spray methods that last only a few hours.
Like other products within our floor coating range, our new Covid-19 Resistant Coating can be easily applied to floors using a brush or roller. This results in an aesthetically pleasing, easy to clean, high gloss finish you can expect from all our high performance coatings.
What Are The Benefits?
Our coating has many benefits allowing businesses and individuals to future proof their environments to safeguard against Covid-19 as well as other bacteria and microbes. 
Anti-bacterial & Anti-microbial killing over 99.9% of bacteria 24 hours a day
Helps create a safe working environment improving employee confidence
100% epoxy proudly manufactured in the UK by Resincoat
Helps to eliminate potential workplace closures caused by Covid-19
Long term durability providing protection for the lifetime of the coating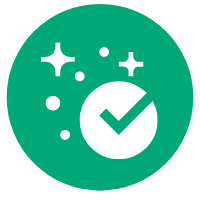 Heavy duty formula that's easy to keep clean
Application Environments:
Our Covid-19 Resistant Coating is ideal for any home or working environment that requires added protection against the spread of bacteria and viruses.
* Hospitals
* Surgeries
* Medical manufacturing facilities
* Dentistry's
* Retail spaces
* Schools
* Any other type of environment looking to safeguard against Covid-19
UK Manufactured Epoxy Coating:

Manufactured at our factory here in the UK, we offer a range of colours and options to suit your needs. At Resincoat we're a proud UK manufacturer meaning we can guarantee quality and durability across our range of products. We're also ISO 9001 accredited helping us increase the quality of our products and services as well as assisting us in achieving higher operating efficiency. We have found that that by making this commitment to consistent quality assurance it has helped our entire manufacturing operation. 
How To Order:
We have a team of technical experts on hand to offer advice and answer any questions you might have on our new Covid-19 resistant coatings 
View the product on our website:
To learn more about our Covid-19 resistant coating head over to our product page www.resincoat.co.uk/coronavirus
Speak to a technical expert:
Speak to one of the experts in our team either on our chat function or call 033 00 570 695 who will be able to answer all of your questions from suitability to application & preparation advice. 
Arrange a free virtual or on site visit:
We're offering virtual and on site visits for customers. This allows a technical expert from our team the opportunity to correctly asses your floor & advise on suitable products along with any preparation advice. To arrange a site visit email sales@resincoat.co.uk